Step 1: Hanging Parts
Due to the volume of parts that can be hung in a small area, smaller parts are pre racked off line. This is preformed to utilize as much line space as possible.
Step 2: Pretreatment and Cleaning
Stage 1&2 - Alkaline Cleaner - Having 2 cleaning stages allows the ability for independent heating zones, double cleaning, and the versatility of running a "hotter" stage or putting a cleaning booster for processing extremely dirty parts.
Stage 3&4 - Rinse - 2 Rinse stages give double protection for removing any soils and alkaline residue so the conditioner and zinc phosphate stages can have full and immediate reaction with the surface material.
Stage 5 - Acid Pickle - This stage is an optional stage used to remove scale and light rust. This stage can only be used on Steel due to the acid involved.
Stages 6 & 7 - Rinse - double rinses after the pickle stage.
Stage 8 - Rise Conditioner - The conditioner stage is used prior to the zinc phosphate to promote a heavier and more uniform phosphate film build.
Stage 9 - Zinc Phosphate Bath - Zinc phosphate is a crystalline in structure, providing excellent adhesion. Zinc coating weights range from 300 to 400 milligrams per square foot giving superior corrosion resistance. Zinc Phosphate can provide up to 3000 hour salt spray. Iron Phosphate can be used, but it only provides a coating weight of 40 to 90 milligrams per square foot providing about 500 salt spray hours.
Stage 10 - Zinc Phosphate Rinse - Rinses excess phosphate off parts and prepares the surface for the sealer.
Stage 11 - Sealer - Non-Chrome sealer adds corrosion resistance.
Stage 12&13 - Reverse Osmosis Rinse - The RO water baths rinse parts in an ultra clean rinse before paint. These rinses are filtered continually using Bag filters.
Step 3: Paint Application and Rinsing
Stage 14 - Color #1 E-coat Epoxy Paint Application Tank
Stage 15 - 17 Color #1 Post Rinse - Most e-coat lines have 2 post rinses. 3 post rinses provides excellent rinsing of excess paint for a uniform film, enhanced appearance, and efficient recovery of paint material.
Stage 18 - Color #2 Application Tank
Stage 19 & 20 - Color #2 Post Rinse
Stage 21 - Color #2 Spray Post Rinse
Stages 18 thru 21 are a versatility option of another color.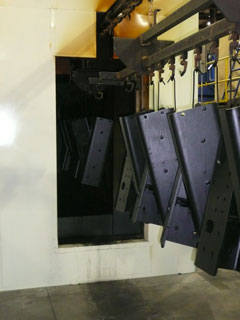 Step 4: Dehydration Oven
10 Minutes inside this oven helps control out-gassing issues with some castings, and parts with hem and flattened areas.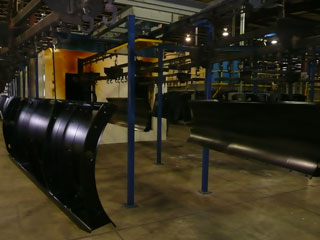 Step 5: Cure oven
30 Minutes Cure time